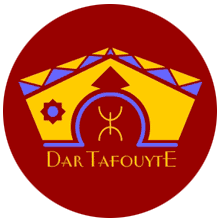 Prices of Accommodation & Services
Dar Tafouyte has a series of services in terms of accommodation as well as activities in the region to take home great memories of the Sahara Desert in Morocco.
At our hotel in the Erg Chebbi Dunes, we take pleasure in serving our guests with their wellbeing in mind. All the hotel services are of superior quality. Like you expect your desert adventure to be. Feel free to consult this page to know about the prices and rates of Dar Tafouyte, our guesthouse in Morocco, for the services that we provide. We await your visit at our location in the desert.
Rooms in the Guest House
The most comfortable way to live by the edge of the dunes for a few days is to stay in our beautifully decorated rooms. Every time you walk in through your hotel room door, you will feel a Morocco welcoming once again. Availability includes double, triple or family rooms.
Prices are shown for rooms in half-board accommodation with breakfast and dinner included (except drinks).
Standard Rooms » 30 Euros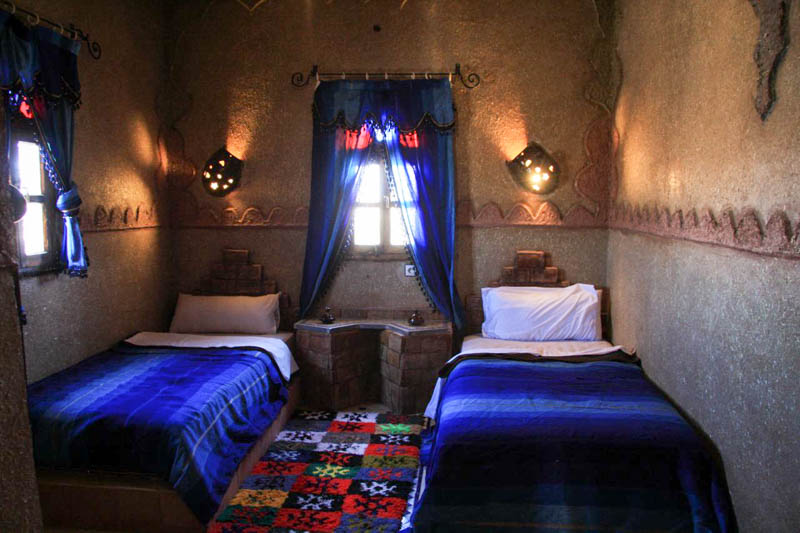 The standard rooms in our desert hotel offer a comfortable environment to take a rest from your explorations in the Sahara. They provide air conditioning and a private bathroom.
Luxury Suites » 45 Euros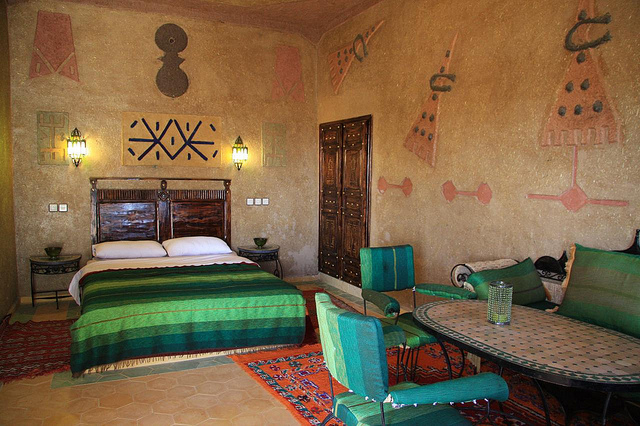 The luxury suites in Dar Tafouyte accommodate our guests in a spacious room with private bathroom, air conditioning, and an inspiring view over the dunes and surrounding villages.
Desert Tents and Camel Trekking
For our guests that want to try the full Berber experience, we go deeper in the desert on camelback to simply watch the never-ending dunes of the Erg Chebbi landscape or to spend the night in the Sahara. Camel trekking activities are already very popular with visitors in the whole country of Morocco. These memories will stay with you forever.
The combination of a camel ride and an overnight in a campsite in the Sahara Desert is a must for all visitors at Dar Tafouyte. That is why we have been offering this specialized service so that you can be a Berber traveling in a caravan towards the sun with the comfort of a lively traditional bivouac on your mind.
Sunset Camel Trekking Experience » 15€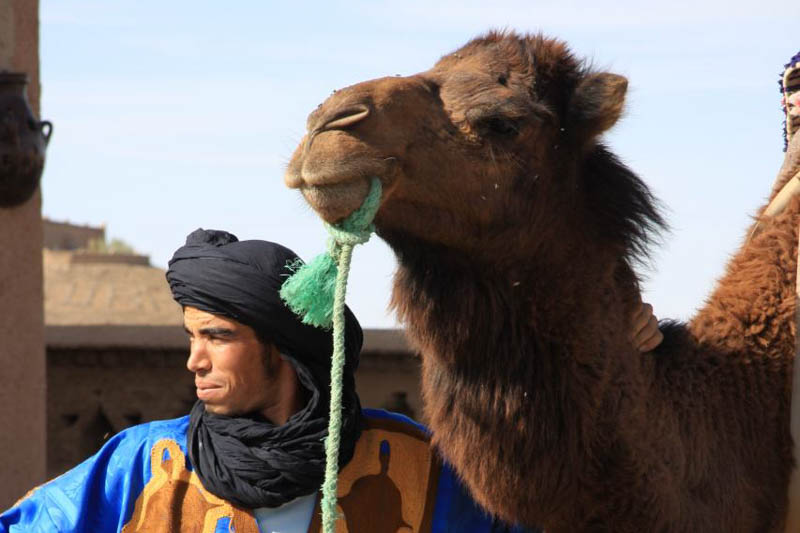 Camel ride on the dunes at sunrise or sunset. At the top of a big dune surrounded by sand, all you need to do is wait for the magic of another day or night to come.
Luxury Bivouac & Camel Trekking » 80€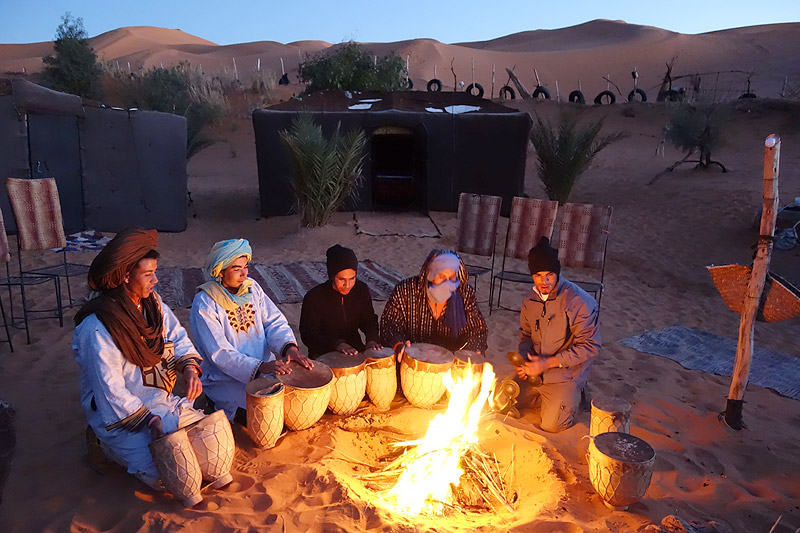 Including camel trekking, exquisite more elaborate dinner and drinks with folklore animation, private Berber tent, and breakfast.
Standard Bivouac & Camel Trekking» 40€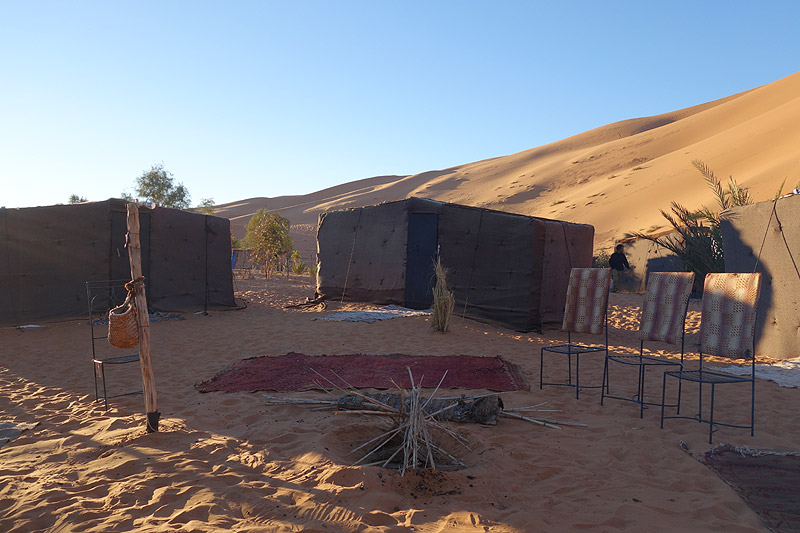 Including camel trekking, dinner, and music around the fire, overnight in a Berber tent, and continental breakfast.
4WD Desert Tours
Our excursions in 4X4 vehicles are very appreciated among our guests, who always want to see as much as they can of Morocco and discover our culture in a close contact with Moroccans. Closer to our desert hotel in the Merzouga region or in other locations of our country, we have a 4×4 tour for every curious traveller.
Departing from Dar Tafouyte, we pass Merzouga village to reach the lake, just a few kms away. Visit of the Saharan village of Khamlia to listen to special African Gnawa music. Crossing the desert, we go around Erg Chebbi dunes. Stop at a nomad family's home to share some time with the locals while drinking mint tea. Quick visit to Tissardmine Oasis before returning to Dar Tafouyte.
Desert Tours with 4WD » 100€


Price can be shared by up to 6 people.
Other activities
At Dar Tafouyte we also offer other services to please all our guests' wishes.
Quads Tours – Exploring the desert fully in control of your own quad.
Sandboarding – Going down the gigantic dunes as if they were the snowy Alps.
Sandbath – Being buried neck-deep in the hot sand as a therapy to help relieve polyarthritis, rheumatism, lumbago, and some skin disorders.
New Year's Eve – Welcoming the New Year as you have never done in a desert party with plenty of animation and amazing food.
For more information or to make a reservation at Dar Tafouyte, please contact our office. We will write you back as soon as possible. Thank you.